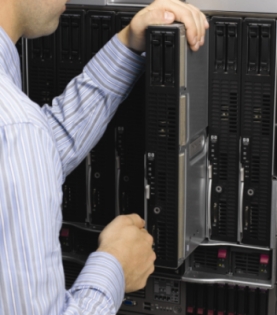 Server Systems Integrations
Understanding the complexities of the IT environment we extend our system integration expertise to ensure that the technology is in line with your business objectives no matter the size and nature of your organization.
Our platform integration services includes Virtualization & Consolidation, cross-platform migration, deployment of Windows Servers, Backup & Recovery Solution; We experience in this field extends to various hardware platforms like IBM, HP & Dell PC servers. Our services in platform integration include:
Capacity planning & Sizing
Hardware Deployment
OS Deployment
Clustering Solutions
Hardware Deployment:
Enterprise servers deployment are of specific range, which have high speed processing with high number crunching capability and greater I/O throughputs. This range is specifically used in deployment of high-end application solutions.
The key deliverable under this service is:
Delivery of equipment
Installation of hardware components
RAID Configurations
Power on Self Test
Operating System:
All classes of servers need operating system to run the hardware for processing and number crunching. Under OS deployment we bring to the customer rich expertise.
The key deliverable under this service is:
Capture of data sizes as per application
Design of data and OS partitioning
Deployment of OS partitioning
Deployment of data partitioning
Fine tuning of OS
Server boot up test
Storage Migration & Integration
Our keen understanding of various storage technologies as well as hardware, software and networking technologies gives us a valuable insight while delivering storage integration-(SAN & NAS, VSANs) solutions.
Global Data partners with world storage leaders to offer information storage standard for every major computing platform. We are helping organizations manage, use, protect, and share their information assets more efficiently and cost-effectively. Storage integration covers the following domains:
Capacity planning & Sizing for the storage
Implementation of high end storage systems
LUN/Storage Group designing
Integration of networked storage technologies, storage area networks.
SAN switch zoning, ISL, Trunking
Disaster Recovery using Synchronous & Asynchronous replication
Backup and data protection software and services
Disk & Tape Libraries
Information Life Cycle Management strategy
We have the expertise to deploy storage solution for various products. Also with our implementation experience of these products we can help the customer in faster deployment and integrate different products.