As the audiovisual pioneer,Global Data specializes in providing advanced and user-friendly audiovisual systems to customer. Combining the superiority of our various audio and video systems with a flexible structure allows us to provide a complete spectrum of engineering on the most complicated applications for our clients. Systems include:
Audio/Videoconferencing System
Multimedia Presentation System
Central Control System
Audio/Videoconferencing System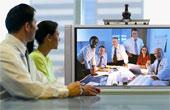 We offer one-to-one and multipoint connections for audio and videoconferencing. To facilitate users who conduct conferences with business partners worldwide, we provide different frequencies selection so that they themselves can select the frequency suitable to them.
Multimedia Presentation System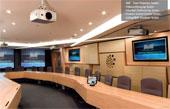 From small meeting rooms to auditoriums, our experienced engineers will, according to different needs and requirements, design the optimal Multimedia Presentation System for you and your company. Systems include front and rear projection systems, data/video connection, microphone systems, plasma display systems, and countless others.
Central Control System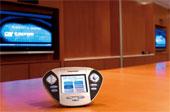 Central control is the heart of the whole audio-visual system. Do you want to be able to control a considerable amount of audio video equipment with the convenience of a touch of a button? We connect all the audio video equipment, including the lighting, curtain and projection screen control together and program it with the central control system. This allows the huge amount of AV equipment to be easily controlled with your fingertips via the touch panel. The panel background can also be designed the way that best suits your needs.