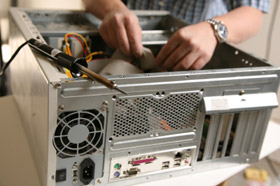 We provide tailor-made hardware maintenance service to fulfill customers' needs. Other than maintenance service for hardware that is out of warranty, we also have scheduled preventive maintenance, standby equipment and dedicated technical support service, in order that customers' computer equipment is stable and reliable.
Global Data's Hardware Maintenance Services help you gain the benefits of increased operational efficiency and improved IT availability by enabling you to:
Manage your IT infrastructure budget with predictable, controllable costs.With pricing on an annual basis, our services allow you to easily budget for current and future needs, since hard-to-control variable costs are replaced by fixed costs.
Eliminate the cost of multiple service providers. With Global Data's multivendor capability, you can reduce or eliminate the number of service providers you need to support a broad spectrum of infrastructure products.
Scale support quickly and easily. By leveraging our China support network, you can enjoy services at major cities of China through one of our single contact. This eliminates indirect costs from increasing communication volumes, and the need for additional contact and time zone coverage.
Access critical skill sets with our multivendor expertise in supporting many leading IT infrastructure technologies to ensure that you receive the specialized support you need.
Re-focus on core business and focus on managing more strategic initiatives, while receiving the best IT infrastructure support available.